Many people are deterred from consistently eating healthy meals because of cost and this is a valid concern. In a study from the Harvard School of Public Health, it was revealed that maintaining a healthy diet costs $1.50 more per day than an unhealthy diet. Eating well can be equally time-consuming, which can make cheap frozen dinners even more tempting. So how do you eat healthy on a budget?
Luckily, we've come up with some tips to help you improve your diet without going broke! You can start eating healthy right now with the right planning and commitment.
Plan Your Meals in Advance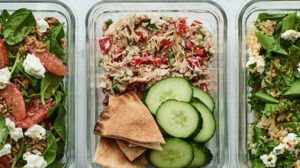 If you've ever turned up at the grocery store hungry and without a shopping list, then you already know why this is the very first tip! Planning your meals in advance means you'll plan your grocery shopping list in advance. You'll be less inclined to go for the quick and easy options in the frozen aisle (or that bar of chocolate at the checkout).
Choose one day each week for meal planning. Check your cupboards/fridge/pantry to see what you have, and make a full list of the groceries you need. It sounds simple, but many people rarely do this! When life is busy it's easy to dash to the store with no list at all. But it's easy to get into this habit and it will save you time and money.
.
Buy Both Organic and Conventional Food
Organic food is expensive but this shouldn't stop you from pursuing a healthy diet. You don't have to buy organic 100% of the time. Instead, you can use common sense to save your organic dollar for where it matters most. If your budget is tight, choose non-organic foods that have an outer layer or skin that generally isn't consumed. It's more important to invest in foods like leafy greens and berries that you consume whole.
Say Yes to Generic Brands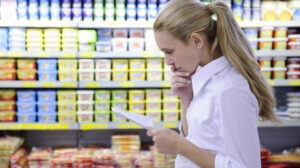 There are generic brands available for lots of food products and the quality is often just as good. Look for the generic versions of your usual food items and check the ingredients list. Many will match up!
Cook at Home
Making it a habit to cook at home instead of eating out will really help you to cut costs. AND you can make sure you're eating healthily by knowing exactly what's in your meals. Any leftovers are great for inexpensive recipes like stews and soups or cooking in batches. Whatever works for you (and the size of your freezer/family).
Learn to Love Less Expensive Food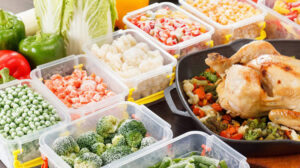 There is an abundance of inexpensive and healthy food available and trying out new ingredients is a great way to reduce the cost of your grocery bill. Nutritious foods like beans, eggs, frozen fruit and vegetables, whole grains, and cheaper meat cuts are all very budget-friendly. Especially when bought in bulk. Adding these cheaper — yet healthy — options to your diet will help you to cut costs and eat better too.
These tips will make it much easier to stick to a healthy diet on a budget. But remember — you should never sacrifice your health for your wealth!
Optimize Your Diet With Our Daily Advanced Probiotic
With our Advanced Probiotic, you can further optimize your diet and boost your energy levels. Make sure that your body has the bacteria needed to main a healthy gut and optimal immune system.
Our Advanced Probiotic is now available to our readers at a special 30% off discounted rate! Avail of this discount with the code healthyliving30.